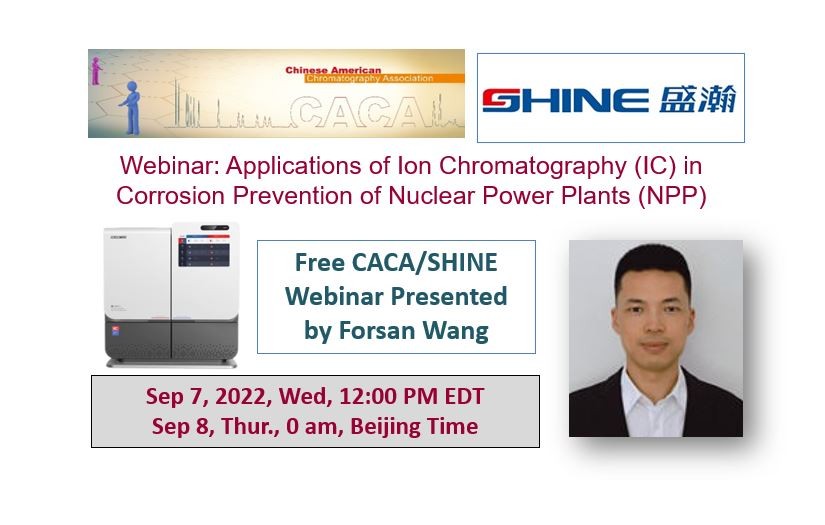 Free CACA/SHINE Webinar: Applications of Ion Chromatography (IC) in Corrosion Prevention of Nuclear Power Plants (NPP)
Wed, Sep 7, 2022, 12:00 PM - 1:00 PM EDT
Event Overview:
Corrosion of nuclear power plants (NPP) pipelines has posed hidden and significant damage to equipment and safety concerns. However, these invisible threats are analytically challenging to monitor and detect, given that the inorganic ions generated by corrosion are at parts per billion (ppb) levels, such as ammonium and lithium ions. In this online seminar, we will introduce our latest high-performance ion chromatography technology, which has been demonstrated to be sensitive and robust in trace analysis of cations and anions from primary-circuit boric acid and secondary-circuit ammonia systems in NPP. Important ion chromatography (IC) methods based on Shine's IC instruments and columns will also be elaborated.
Key Learning Objectives:
Understand the principle of ion chromatography
Understand the working principle of Pressurized Water Reactor (PWR) nuclear power stations
Discussion on the future trends of ion detection in nuclear power plants.
Who Should Attend:
Companies or institutions that use ion chromatography for method development and sample analysis.
People who want to know more about high-performance ion chromatography.
About the Sponsor:
Qingdao Shenghan Chromatograph Technology Co., Ltd. (SHINE) was established in 2002, specializing in R&D, production, sales, and after-sales service of ion chromatography instruments and columns. Currently, the company has four series of ion chromatography systems, including benchtop IC, portable IC, online IC, and customized IC. SHINE is one of the few enterprises worldwide that can realize mass production of IC columns, utilizing its own technologies. Shine also provides free method development and customized instrument services. So far, SHINE ion chromatography systems and consumables have been exported to sixty-five countries, receiving complimentary reviews worldwide.